Try these lower sugar treats
We all love a sweet treat now and then, so here are some ideas and recipes to help you enjoy that occasional treat with a little less guilt.
The easiest way to reduce sugars in cakes is by using less icing, buttercream and sweet fillings as they are usually sugar packed. The cake itself often doesn't contain nearly as much sugar as the toppings and fillings.
Fruit crumbles can be an option by cutting down on the sugar content in the crumble and the fruit is often sweet enough on its own. For example, using eating apples, which are sweeter than Bramleys, can cut down on the need to add sugar. Serve it with natural yoghurt instead of custard or ice cream or just have one small scoop of ice cream rather than two!
Many desserts that contain whole unsweetened fruit tend to contain lower levels of added sugars. Scones usually contain no sugar and can be served with a small amount of jam, and pancakes or drop scones can be served with fresh fruit and cream. However, remember that dried fruits can add a significant amount of sugar to a recipe.
Try these lower sugar recipe ideas:
APPLE PIE
Serves 6
3tsp sugar per serving
225g plain flour
pinch salt
1 tsp baking powder
125g cold butter, cubed
75g caster sugar
grated rind of half a lemon
2 eggs (1 egg separated)
3 eating apples, peeled, cored and diced
1 tsp cinnamon
In a food processor, or by hand, add the butter and grated lemon rind to the sifted flour, salt and baking powder and mix until it resembles fine breadcrumbs. Add the sugar, whole egg and yolk and mix to form a soft dough.
Split the dough into two: one third and two thirds. Wrap in clingfilm and chill for two hours  until firm.
Preheat oven to 180C/fan 160C/Gas 4. Place a large baking sheet in the oven and grease a loose-bottomed 20cm flan tin.
Roll out the large dough ball on a lightly floured surface or between sheets of clingfilm into a 25cm circle. Place it into the tin and press it down until it stands just clear of the edge of the tin.
Pack with the diced apple and sprinkle with cinnamon.
Roll the smaller piece of dough to the same size as the tin and lay over the top of the apples, sealing the edges by folding over the bottom piece of dough inwards and pressing to seal.
Prick the dough and brush with the reserved egg white. Bake on the hot baking sheet for 20 mins. Reduce the oven temperature to 160C/fan 140C/ Gas 3 and bake for a further 25-30 mins.
Serve with whipped cream.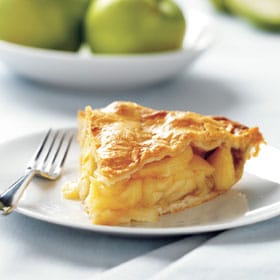 BANANA AND BLUEBERRY MUFFINS
Serves 12
2tsp sugar per muffin
300g self raising flour
1 tsp bicarbonate of soda
100g light muscovado sugar
50g oats + 1 tbsp for topping
2 bananas – very ripe/turning black
284ml buttermilk or low fat natural yoghurt
5 tbsp light olive oil
2 egg whites
150g blueberries
1 tsp cinnamon
Heat the oven to 180C/fan 160C/ Gas 4
Stir the buttermilk,oil and egg whites into the mashed bananas.
Mix flour, bicarbonate, oats, cinnamon and sugar (keeping back 1 tbsp for the topping) in a bowl and make a well in the centre. Pour in the liquid ingredients and mix until just combined.
Stir in the fruit and fill 12 muffin cases until quite full.
Mix the tbsp of oats and reserved sugar and sprinkle over the muffins.
Bake for 18-20 mins until dark golden.
You could also try other fruit combinations.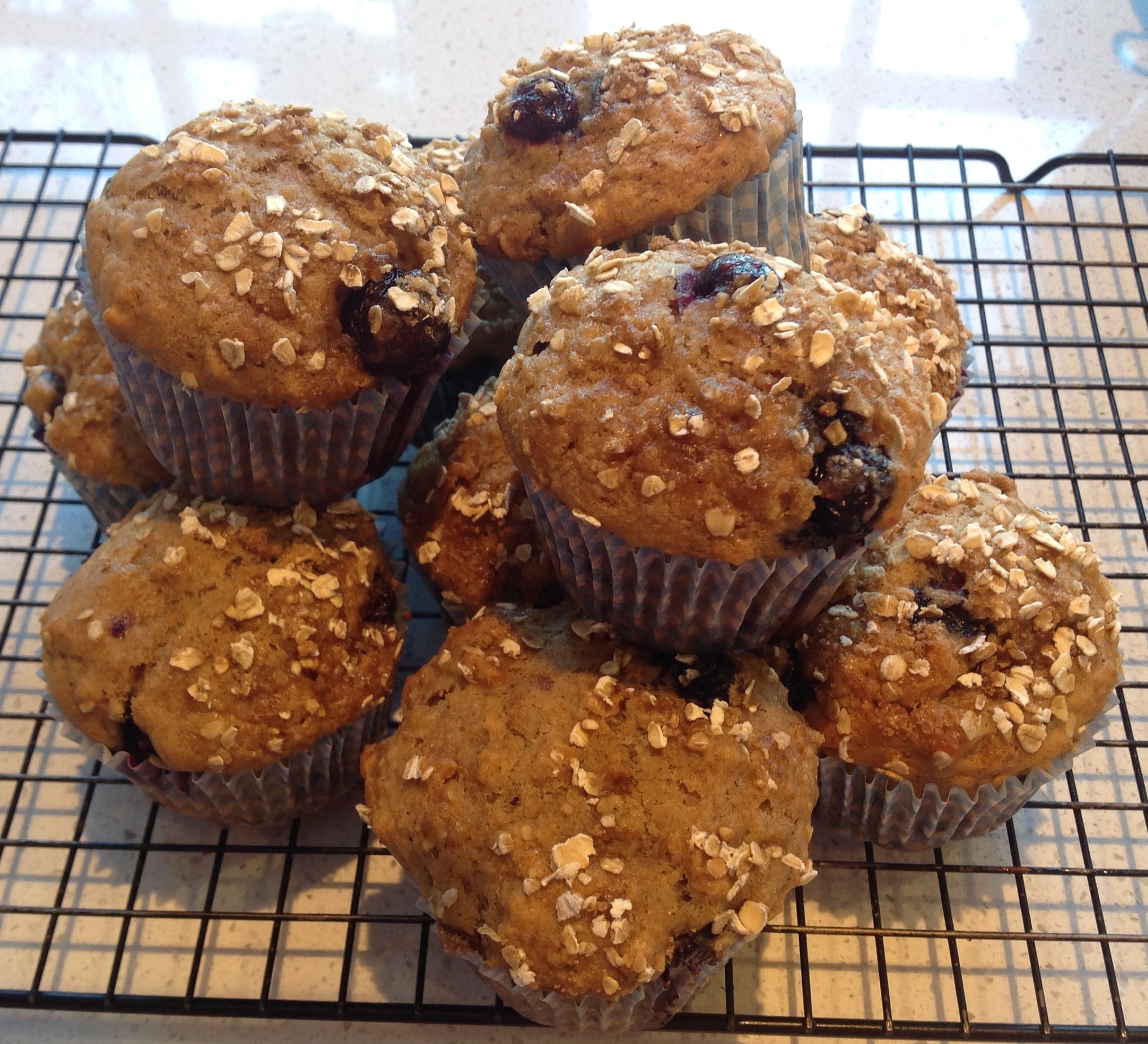 STRAWBERRY ROULADE
Serves 8
3tsp sugar per serving
3 eggs
100g caster sugar, plus a little extra for dusting
125g plain flour
150g greek yoghurt mixed with 150g plain fromage frais (+ optional 1tbsp sifted icing sugar)
225g strawberries, sliced, plus few extra to decorate
Preheat oven to 200C/fan 180C/ Gas 6. Lightly grease and line a 23x33cm Swiss roll tin.
With an electric whisk, whisk the eggs and sugar in a large bowl over a pan of simmering water until pale and creamy and thick enough to leave a trail when the whisk is lifted up. Set aside the mixture to cool.
Sift half the flour into the egg/sugar mix and fold in gently. Sift in the rest of the flour and fold in along with 1 tbsp of hot water.
Pour the mixture into the baking tin and level by tipping the tin. Bake for 10-15 minutes until golden brown and firm to touch.
Sprinkle a sheet of greaseproof paper with the remaining sugar and turn out the hot sponge onto the paper. Trim the edges and roll up using the paper. Leave to cool on a wire rack.
Unroll the cake when cold and spread with the yoghurt mix and then the sliced strawberries. Re-roll and decorate with strawberries before serving.
Try chopped mango and passion fruit if you prefer a sweeter taste!